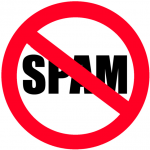 Welcome to our Spam Hall of Shame. Where we post some of the most bizarre, funny but potentially harmful scam/spam to the unknowing victim.
This spam showcases around Craigslist's SMS Phishing attempts. Below is the actual automated reply(s) from the phone number(s) listed in this article regarding our very own craigslist ad. Because we always post in two or more regions with similar titles, we know its a scam when you get two identical spam text that try to appear there interested.
If you get any type of reply email, text or voice mail, simply delete and add to your spam list. Below is the actual text they used in multiple listings trying to get engagement, in which they would proceed to setup their scam in sending you a check made out for more money then your asking so you have to send them real money back.
---
FROM: (256) 255-4277; Hello,My name is Kelvin,please what's the lowest price and am i texting to the direct owner of the… <your add title will be located here>
FROM: (509) 497-7137; You receive (2) voice message for your item, to listen them use: www.0162.voice-craigs.live;
FROM: (717) 485-3020; You have 2 new buyer messages for your craigslist item, to read them visit: http://limited-account.site/craigslist.org/?messages=41070
FROM: (248) 338-9141; You received 1 new message regarding your ad on Craiglist. Review at: https://craigslist.org-springfield.site/?message=YvRXE
FROM: (586) 716-7811; 22824QqMBq New messages for your item. Read your Craigslist messages here: https://www.itemread.com/questions/inbox?id=QqMBq
FROM: (601) 665-4924; You have a new notification for your Craigslist post, view here: http://cl-post.pw?post=WLjsd
FROM: (323) 612-1179; Is your still available? Call me.

FROM: (717) 464-9440;You received an offer for your ad on Craiglist. Review at: https://craiglist.raissaletyciastore.com.br/?messages=D2oHX
FROM: (508) 655-0737; You have 2 new messages for your CL item/?59642, to read them use: https://new-messages-account-158528.000webhostapp.com
FROM: (203) 779-5252; You received an message regarding your ad on Craiglist. Review at: https://craigslist.org-springfield.site/?message=0UZZq
Don't fall for this type of scam. Make sure to simply add the numbers to your block list. Most number will be out of state. These are classic phishing attempts, either by voice once you call them or by links that will take you to the spammers site that may look like craigslist site wanting you to login.
But your actually giving them your login credentials, in which they were use them to further spam and try to obtain payments fraudulently among other things.
View others that made it to the Spam Hall Of Shame. And let us know if you received the similar email and if it was from a different email address.