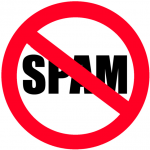 Welcome to our Spam Hall of Shame. Where we post some of the most bizarre, funny but potentially harmful scam/spam to the unknowing victim.
This spam showcases around Smishing, which is a type of scam done through text messaging. Unfortunately anyone can be a target of this scam and doesn't matter whether you provided your number with others.
Phone numbers in the U.S. follow a predicted value so a simply computer program can be created to obtain the numbers (everything from (111) – 111 – 1111 to (999) – 999 – 9999 for example.
If you get any type of this text message, simply delete and add the number to your ever growing spam list. Below is the actual text I and other clients have received.
---
FROM: (206) 939-6424;

Someone complimented you!

See more:

IOS: https://apple.co/2001orx

Android: https://play.google.com/store/apps/details?idco.irl.android

opt out reply NO
Don't fall for this type of scam. I mean really, somebody from an out of state that doesn't know me is going to compliment me, ha, nice try.
In reality, this is a one of the most low life attempts of false and mischievousness advertising an app that is filled with a virus and attempt to obtain your personal info.
What do the links do?
I copied the links and put them on a test computer and followed the trail, sort of speak. They actually take you to some potentially virus infested app to download (for either IOS / Android) (sorry didn't test that out).
The so called app is called IRL, Made by some person I can't even pronounce the name. Just as others like this, they hope you download and enter in your information, which as you expect will either be used to spam you more or sell to others.
IRL – Let's Hang 12+
Nominate, Invite, Hang
Genrikh Khachatryan
And don't even reply with NO, as they will know they got a real persons phone number and follow up accordingly. Also get ready for your phone to light up with more spam as most scams like these and others on our Spam Hall Of Shame sell those to others.
View our other captured low lifes that made it to the Spam Hall Of Shame. And let us know if you received the similar email, text or voicemail from any of our SHOS call outs.